Tsiu River Silver Salmon Lodge
& Floating Cabin

A little of everything—fresh and salt water fishing three nights at two different locations. The luxury and convenience of a staffed camp and then the tranquil seclusion of being alone with all the comforts of home. $5,995.00 pp

TSIU RIVER SILVER SALMON LODGE:

If you would like to see more pictures click on these:

LETS GO FISHING! | BRING YOUR CAMERA! | TOUR THE LODGE | TOUR THE COTTAGES


If you've ever caught a silver on a fly, you know that life doesn't get any better. Our Tsiu River Lodge puts you on the bank of one of Alaska's finest world class silver salmon streams. It is said to be the best silver salmon fishing in the state of Alaska - and possibly the world. Accessible only be aircraft –-the Tsiu River lies about 100 miles southeast of Cordova on the coast of the Gulf of Alaska.

Fresh from the Gulf of Alaska, these silvers swim upstream in large waves -- sometimes brushing against your waders as they go. Watch their wake as they make a b-line for the end of your line...then hang on for a wild ride and enjoy their acrobatic show.

Whether you're fly fishing or spin casting, you may catch so many of these 12 to 20 pound fighters that you'll have to stop and rest your arm periodically. With its crystal clear water and sandy bottom one can cross the river at almost any point wearing chest waders.

We serve a hearty, delicious breakfast and dinner every day in camp – and lunch wherever you're fishing. We use jet boats and four wheelrs to move you up and down the rivers.

Sandwiched between the snow-capped peaks of the St. Elias mountain range and the Gulf of Alaska, the scenery is breathtaking. Right in front of camp, you may spot eagles feeding on the salmon, flocks of geese and ducks moving along the coast, trumpeter swans sailing across the sky, or brown bears off in the distance. You can also walk along the coastline and enjoy miles of beach combing.

FLOATING CABIN:

If you would like to see more pictures click on these:

LETS GO FISHING! | BRING YOUR CAMERA! | FLOATING CABIN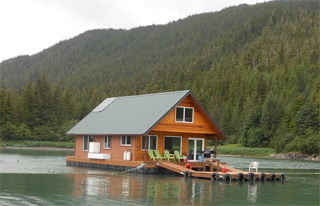 It is hard to imagine a more comfortable way to enjoy the remoteness of Alaska than from your own floating island. You can spot sea otters at your door. Fish from your bedroom window. Or dangle your toes in the water from the front deck.
The floating cabin is a very comfortable cabin anchored in the more remote arms of Prince William Sound . Your group can be alone to enjoy the best of Alaska--mountains, fjords, glaciers and a never ending stream of wildlife. Whales, sea lions, sea otters and porpoises are readily seen as well as eagles and the occasional brown or black bear.
The variety of fishing available from these sites is wide-- Salmon, Dolly Varden, Cutthroat Trout, Halibut, Ling Cod and Red Snapper. We provide everything you need for saltwater fishing - including deep-water halibut rods, tackle and bait. There are also lots of fly-fishing opportunities so be sure to bring your fly rod along. We have light weight and medium action spinning gear available if you don't want to haul your own.
You can either fly-fish or spin cast for Salmon and Dolly Varden right from your deck or in the numerous streams and rivers just a short boat ride away from your floating cabin. Before departure on your trip we will go over a map of where and how to fish for the different species of fish. When we transport you to the floating cabin by floatplane we will fly you over the fishing area giving you a bird's eye of view from the air. If you need anything, we check on you at least every other day if not daily. We'll also pick up any fish you'd like to have frozen and boxed up for your trip home. Smoking and vacuum packing of your fish is also available.
These floating cabins are fully equipped cabins. In one of our floating cabins, you'll be near the fish and far away from everything else. All the cabins are two story with several separate bedrooms, bathroom with hot shower, lights, full kitchen set up and two way radio. The kitchen has a gas refrigerator/freezer and gas stove/oven as well as plenty of storage cabinets. The dining area has numerous windows offering an outstanding view as you dine.
The floating cabin itself is beautifully furnished with log furniture, complete with wall-mounted lights (just in case your are still up when the midnight sun goes down). The floating cabin has rough cut cedar panel walls with the aroma that cedar is famous for, a front and back deck with an outside gas grill and attached dock with a table to clean your fresh catch of the day. We pack a very complete and generous supply of food. For every two persons in the group we will provide a boat and motor with an unlimited gas supply.
HOME

Alaskan
Wilderness Outfitting
Company
P.O. Box 1516
Cordova, Alaska 99574
(907) 424-5552