The Tsiu River Lodge
World Class Silver Salmon Fishing
With First Class Lodging
If you would like to see more pictures click on these:
LETS GO FISHING! | BRING YOUR CAMERA! | TOUR THE COTTAGES | TOUR THE LODGE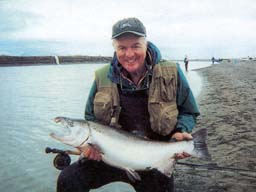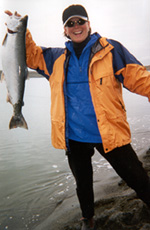 The Tsiu River is one of Alaska's finest world class silver salmon streams. The Tsiu River is located 100 miles southeast of Cordova and is accessible only by aircraft. If you have ever caught a silver on a fly, you know that life doesn't get any better. Fresh from the Gulf of Alaska, these silvers swim upstream in large waves-sometimes brushing against your waders as they go by. Watch their wake as they b-line for the end of your line...then hang on for a wild ride and enjoy their acrobatic show. The sandy bottom makes the river easy and safe to wade, the water is shallow and clear so you can actually sight cast the chrome bright silvers fresh in through the surf. Silver salmon are a very aggressive and hard fighting fish characterized by their acrobatics shows and never ending runs. You can expect to hook into 25 to 50 fish a day. the Tsiu River run is long and strong-beginning in August and running through the middle of October. Fresh silver salmon are consistently coming in the river daily during this period and it is hard to tell when the peak is because of the sheer number of fish that return to the river.

Just for you - The Best on the Tsiu River - Just got Better -
Set on five acre wooded parcel is our newly built fishing outdoor retreat. Paying much attention to detail and with your personal comfort in mind we have created a unique private hide-away. Mixed with all the essential elements it takes to make the best fishing and outdoor adventure ever !! Friendly, experienced guides who respect and love the great Alaskan outdoors. Top notch equipment - talented and friendly cooks who prepare delicious meals - your own spacious private cottage - with first class furnishings makes our Lodge stand alone. Last but not least we take care in handling your prized catch and properly pack it for the trip home.

Your Own Private Accommodations:


Enjoy the privacy and comfort of your own cottage in the woods. You'll be surrounded by trees and wilderness beauty, which you can enjoy from your window or out on your own private deck.
Each cottage features plenty of room to spread out and relax. Upstairs you'll find three bedrooms, each with two log beds, high quality mattresses, and European down comforters, pillows and sheets to ensure a good nights rest. Downstairs you have 500 square feet of living area all to yourself. Comfortable over stuffed couches and chairs surround a glass fronted fuel oil heater that provides a constant regulated heat-just like home. The wet bar area includes a refrigerator, sink and a two burner stovetop. The cottages are stocked with coffee, hot chocolate, tea and fresh fruit. A hot shower, flush toilet and sink complete your private bathroom downstairs.
Whether there are two of you or six of you, the cottage is all yours - we will not put anyone else in with you.
The Main Lodge and Dining Room: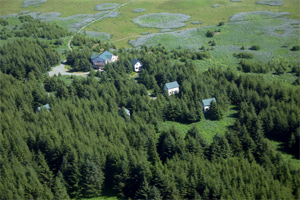 Guests call our second story dining room "unbelievable". Surrounded by windows, you'll dine with full view of the ocean and snow capped mountains in the distance. Perhaps a bear will walk along the beach as the surf crashes against the shore. The lodge also offers a fully stocked fly tying bench for your use, plus a game room, pool table and library.
The Guides
Each cottage has its own personal guide. We are proud to say that our guides care - their number one priority is for you to have the best fishing experience and outdoor adventure of your life. They have a great love and respect for fishing and the great outdoors.
Gourmet Meals: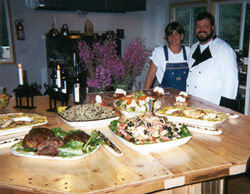 Served by our friendly, experienced cooks and include some of Alaska's best seafood and America's prized Black Angus beef - halibut with dill sauce, Alaska King crab, Alaska Gulf shrimp, fresh caught silver salmon, aged New York Strips, prime rib and turkey with all the trimmings. Fresh salads, vegetables and homemade breads are served with dinner along with rice, potatoes or pasta.
Desserts are made fresh daily and include homemade ice cream atop a berry crisp, strawberry shortcake, creme brulee' and peach cobbler to name a few. Breakfasts are hearty and always includes chilled juices, fresh fruit and a variety of breakfast meats. Paired with French toast, Eggs Benedict, blueberry pancakes and eggs. You will not go hungry.
Lunches are served on the banks of the Tsiu River and include grilled salmon, homemade soups, chili and sandwiches.
Care and Handling of your Prized Catch
The daily limit is four a day with eight in possession. Your fish will be filleted and frozen for your trip home. Airline acceptable fish boxes are availavble along with vacuum packaging or smoking and canning of your fish.
*Price includes round trip transportation from Cordova to the Tsiu, personal guide service, meals and private accommodations.

4 nights $3995.00 pp
5 nights $4795.00 pp
6 nights $5495.00 pp
August - Mid October
HOME
Alaskan
Wilderness Outfitting
Company
P.O. Box 1516
Cordova, Alaska 99574
(907) 424-5552
FAX 424-5564