WRANGELL MOUNTAIN
OUTPOST CABIN
If you would like to see more pictures click on these:
LETS GO FISHING! | BRING YOUR CAMERA! | TOUR THE CABIN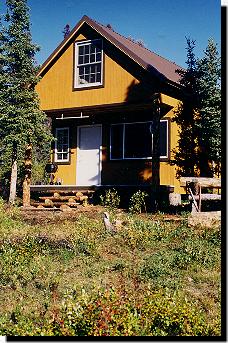 The Ultimate Get Away!! The only cabin on the lake-- only accessible by floatplane!! Catch scores of Arctic grayling from a boat or just a few steps from your cabin door. Lake Trout are found along the bank just a short boat ride from the cabin. And soak in the spectacular Alpine scenery in complete solitude. The flight into the cabin travels over some of the most magnificent country of Alaska.
This newly built cabin is deep in the wilds of the Wrangell Mountains about an hours flight from Cordova, on a lake teeming with Arctic grayling and a few lake trout, too. This is a terrific spot for fly-fishing or a lightweight spinning rod. Arctic grayling are spunky fish that are eager to take your fly or lure - and they're most delicious.
You can actually see the fish hit your fly or lure - Fishing doesn't get any better than that!! You might spot moose feeding in the lake or wildlife roaming the surrounding 8,000-foot peaks. Watch for Dall sheep and both bald and golden eagles. The surrounding hillsides are great for hiking and offer an incredible view of the valley.
The cabin is two story with two separate bedrooms upstairs and log furniture throughout. Fully Equipped with a gas range, refrigerator, lights and all the cookware and utensils you need. Roughing it has never been more enjoyable with running water in the kitchen and bathroom complete with shower.
Six-day Wrangell Mountain Outpost Cabin
$2595.00 per person
June - August
Awesome Combinations:
HOME
Alaskan
Wilderness Outfitting
Company
P.O. Box 1516
Cordova, Alaska 99574
(907) 424-5552
FAX 424-5564