SOUND SERENITY and MOUNTAIN MADNESS:

Prince William Sound Outpost /
Wrangell Mountain Outpost
You can't beat this package anywhere three nights at two different locations. Fresh and salt water fishing at one great price!! $4,695.00 pp
WRANGELL MOUNTAIN OUTPOST:
If you would like to see more pictures click on these:
LETS GO FISHING! | BRING YOUR CAMERA! | TOUR THE CABIN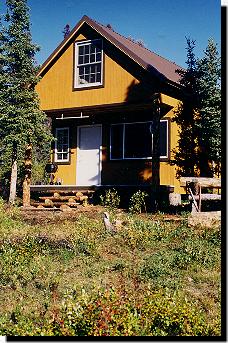 The Ultimate Get Away!! The only cabin on the lake-- only accessible by floatplane!! Catch scores of Arctic grayling from a boat or just a few steps from your cabin door. Lake Trout are found along the bank just a short boat ride from the cabin. Soak in the spectacular Alpine scenery in complete solitude. The flight into the cabin travels over some of the most magnificent country of Alaska.
This newly built cabin is deep in the wilds of the Wrangell Mountains about an hours flight from Cordova, on a lake teeming with Arctic grayling and a few lake trout, too. This is a terrific spot for fly-fishing or a lightweight spinning rod. Arctic grayling are spunky fish that are eager to take your fly or lure - and they're most delicious. You can actually see the fish hit your fly or lure - Fishing doesn't get any better than that!! You might spot moose feeding in the lake or wildlife roaming the surrounding 8,000-foot peaks. Watch for Dall sheep and both bald and golden eagles. The surrounding hillsides are great for hiking and offer an incredible view of the valley.
The cabin is two story with two separate bedrooms upstairs and log furniture throughout. Fully Equipped with a gas range, refrigerator, lights and all the cookware and utensils you need. Roughing it has never been more enjoyable with running water in the kitchen and bathroom complete with shower. You'll also have use of a boat and outboard motor with plenty of gas and lifejackets for everyone.
PRINCE WILLIAM SOUND OUTPOST:
If you would like to see more pictures click on these:
LETS GO FISHING! | BRING YOUR CAMERA! | TOUR THE CABIN
The Prince William Sound is a spectacular waterway, surrounded by snow-capped mountains, mighty glaciers, beautiful forests and remote beaches. And you'll be in the heart of it all. This "do-it-yourself" packages offer incredible scenery and fantastic fishing for all five species of salmon (sockeye, king, pink, chum and silver) plus Dolly Varden, cutthroat trout, red snapper and halibut. Although this is not a guided trip, we'll tell you exactly where the hot spots are and fill you in on the fishing techniques.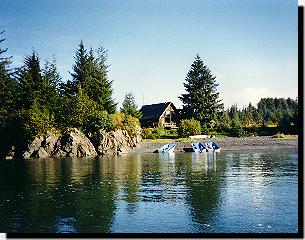 When you're not fishing, there's plenty to explore. Or watch for wildlife, including sea otters, harbor seals, sea lions, Dall porpoises and sometimes killer or humpback whales, plus eagles, mountain goats, blacktail deer, and an occasional bear.
For the extra comfort of a cabin, choose from three sites on Prince William Sound. Each features outstanding scenery and excellent fishing right out your front door.
These spots each get an early return of salmon and halibut. A freshwater lake loaded with scrappy cutthroat trout is just a half hour's walk away.
We have two Outpost Cabins on the Prince William Sound. The larger one sleeps up to six persons and a smaller on that sleeps two persons. Each cabin is remotely located and includes a fully equipped kitchen, heating stove and all bed linens. Both cabins have huge windows so you can enjoy the great outdoors even when you are indoors.
All of our packages include your scenic flight in and out of the cabin by floatplane as well as mid week transfer.
Cabin & Supplies: Each is fully equipped with refrigeration, cookware & utensils, gas range, heating stove, shower, a cooler and ice for your fish, and a complete and generous supply of food. There's also a two-way radio for emergencies.
Boat: You'll have use of a boat equipped with an outboard motor, plenty of gas and lifejackets for everyone. Use it all you want for fishing, whale watching or simply exploring.
Fishing Gear: We provide everything you need for saltwater fishing - including deep-water halibut rods, tackle and bait. There are also lots of fly-fishing opportunities so be sure to bring your fly rod along. We have light weight and medium action spinning gear available if you don't want to haul your own.
Camp checks: If you need anything, we check on you at least every other day if not daily. We'll also pick up any fish you'd like to have frozen and boxed up for your trip home. Smoking and vacuum packing of your fish is also available.
HOME
Alaskan
Wilderness Outfitting
Company
P.O. Box 1516
Cordova, Alaska 99574
(907) 424-5552